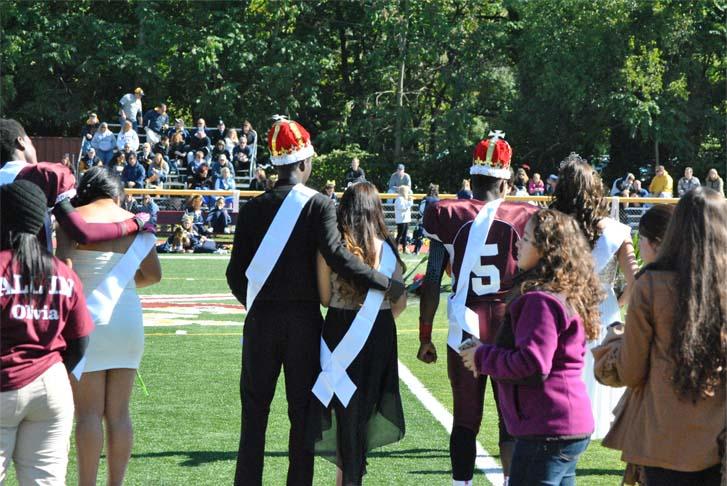 Amid Alumni Support and Proud Princes and Princesses
The  Winton White Stadium field was filled with the loud noise and cheers of the crowd on the night of Saturday, Oct. 13, 2012. Cheerleaders rallied up the spectators, and families and friends of the
"The atmosphere was full of excitement, and because we were playing a good season, we felt that we could win the game," head coach Barry Harris said.
Despite the enthusiastic environment, the Rams led 13-0 in the first half. The Raiders seemed to gain momentum near the end of the first half of the game. They drove the ball down to the end of the field, but the Rams made a goal-line stand.
"We could have played better if we followed through with our game plan, but nothing was going as planned," Coach Harris said.
The end of the first half of the game, however, was followed by the uplifting performance of the DMAE marching band, and finally, it was time for the Homecoming court ceremony. Starting with the DMAE freshmen princes and princesses, the homecoming court was called down to the field.
The Dwight Morrow freshmen prince and princess were Andy Rivas and Brandy Smith respectively, and the Academies @ Englewood freshmen prince and princess were Bryan Fernandez and Maria Ocho. The DM sophomore prince and princess were Jordan Billard. and Valentina Aspirlla, and the AE prince and princess were Daniel Artehortua and Loren Lewis. The DM junior prince and princess were Julius Wingate and Julissa Tabera, and the AE junior prince and princess were Juwann Winfree and Jasmine Dennis.The princes and princesses shined brighter than ever as they walked out onto the field, and last but not least, the DM king and queen, Derek Gaddy and Camila Jamilla, and AE king and queen, Josh Beckham and Christa Gamboa, were called onto the football field. The homecoming court joyously celebrated on the field as they talked and took pictures with their friends and families, carrying their flowers and wearing their sashes and crowns.
"We were all so happy to be there," Gamboa said. "The ceremony made it a night to remember.
The homecoming court ceremony ended with cheers by the Dwight Morrow and Ramsey cheer squads, and the second half of the homecoming game began. Unfortunately, during the second half of the game, the Raiders could not catch up to the Rams.
"We were motivated to play hard, but we just didn't play as well as we could have and even suffered some rough injuries during the game," senior football player Armon Sadler said
Senior Rasheed Perry, the starting quarterback, got a concussion, and senior Derek Gaddy injured his knee, but they gladly recovered soon after their injuries.
The final score was 19-0, a win for the Ramsey Rams. Most spectators were not happy about the shut out, but the Maroon Raiders had a proud winning season, something they had not achieved since 1997.
"We are loosing a lot of seniors, but we still have a lot of juniors who are getting looks from different colleges," Senior Armon Sadler said. "Their hard work and leadership will be vital to the team's success next year."